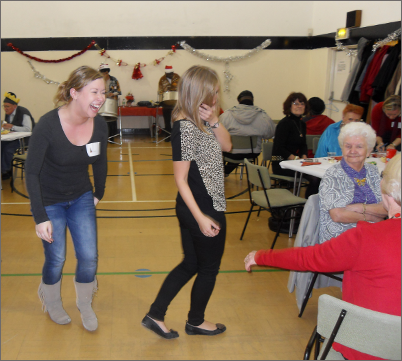 Pictured: Corporate volunteers from Berwin Leighton Paisner share a joke with members of the Older People's Project
St Hilda's works with a wide range of large and small companies who understand the benefit of voluntary action for employers, employees and the community as a whole.
Short-term corporate team volunteering
We recruit corporate teams for a day at a time who may want to help with an event, paint some rooms or organise an outing.  These teams have included volunteers from Barclays Bank, Coopers, Deloitte and Natwest.
Long-term corporate partners

St Hilda's East has a long term and close working relationship with the following companies who give a regular commitment of time and energy to our community through volunteering.
Staff from a number of major national law firms run pro bono legal advice sessions at St Hilda's East Community Centre and Sonali Gardens Centre.
DLA Piper UK, Berwin Leighton Paisner, Lloyd's Register and Allen & Overy help with volunteer IT tutoring at St Hilda's Community Centre and Sonali Gardens.
Staff from Credit Suisse have given their time to assist with the design and production of our Annual Report since 2006.
City of London and Lumina regularly provide one-off volunteers as photographers, massage therapists, reflexologists, social media consultants, HR consultants, event organisers and mentors.
Canary Wharf Group have facilitated networking at St Hilda's and Corporate Social Responsibility events to increase partnership work between local and corporate companies.
Volunteering improves morale, increases staff retention and helps employees to develop new skills, confidence and enthusiasm in a creative environment which can be transferred to the workplace.
In the last year St Hilda's has placed over 100 employees as volunteers and we would welcome support from other companies. If your corporate social responsibility team would like to support St Hilda's, please contact us on 020 7739 8066 or by email.