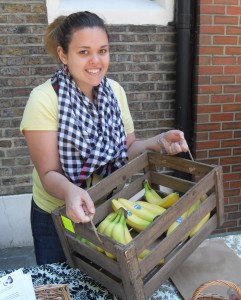 We need volunteers who can help us provide a range of services designed to promote social inclusion and help members of our local community in their daily lives.
We aim to recruit volunteers from all backgrounds and cultures to reflect the nature of our local community.
We provide:
Free training – available on personal development and Social Enterprise Skills.
Travel and Lunch expenses – Volunteers get food and travel expenses paid while working here.
References – If you volunteer for three months we can provide you with a reference.
If you are interested in volunteering, you can pick up the volunteer application pack  from reception at St Hilda's East Community Centre or download it here. Please return your completed application form to us either by post, hand-delivered or by email.
WHAT COULD YOU DO?
Older People's Project
Volunteers assist with lunch club activities such as arts and crafts, keep fit, games and quizzes, parties, outings and  teaching computer classes. Administration opportunities are also available which could include helping to produce with our newsletter.
Food Co-op Project
This project involves selling affordable fresh fruit and vegetables to the local community, with an emphasis on locally sourced produce. We need volunteers interested in helping to source and sell the produce to make this social enterprise sustainable.
Boundary Women's Project
As a volunteer, you would assist in regular activities with a vibrant group of local women. Sessions include cooking, arts, sewing and swimming and various outings throughout the year. You can also help organise events such as fundraisers, international women's day and training sessions.
Youth Project (not currently recruiting volunteers)
Volunteers are needed to work on social education programmes with this group of young people. You can develop skills in conflict resolution, peer support and youth work.
Surjamuki Disabled Youth Project
This project runs on a Saturday daytime and involves supporting young people with disabilities to socialise and take part in activities such as arts and crafts, going to the theatre, music workshops, etc. This project could help you to gain social work and disability awareness skills with a group of creative young people.
Under 5s & Crèche
As a volunteer, you would work with pre-school children aged 0-4 years assisting in crèche childcare and play sessions. You can gain childcare skills and develop an understanding of child development. We currently only accept volunteers who have, or are studying towards, a childcare qualification.
Reception and Administration
Volunteers are needed in the reception area at St Hilda's East Community Centre and Sonali Gardens. You would provide a welcoming atmosphere for visitors, book appointments and undertake various administrative duties.
Sonali Gardens Daycare Centre
At our day centre for local adults and elders with disabilities you would be involved in escorting members of the group to and from Sonali Gardens and assisting with activities such as exercise, music sessions, playing carrom and reading. You will gain skills necessary for work within the health and social care fields.
Minibus Drivers and Passenger Assistants
Many of our projects need passenger assistants and (MiDAS) trained drivers. If you have a clean driving licence for the past 2 years and are over 21 you could be eligible to train as a minibus driver. We will cover the cost of training and ask for at least 3 months volunteering from you in return.
Advice Service
Volunteers who are currently studying with Island Advice Centre are placed at our Advice Service  to provide advice on issues such as housing, benefits and debt.